TF 1500*6 protection panel roll forming line is composed of de-coiler, leveler, cutter, roll former and stacker, which can reduce labor intensity, and can also improve production efficiency and reduces production cost.
This line can uncoil and level 3-12mm * 2000mm steel plate and produce a 6mm * 1500mm section protection panel.
It is convenient for the sheet to enter the forming machine in the correct position. The longitudinal alignment of the guide device is adjustable, and the adjustable hand wheel is operated and controlled on one side, which can be positioned and locked. It adopts a wheel-type guide, with a pair of pressing idlers in the front, two groups of cylindrical guide wheels on each side, and each guide wheel can be adjusted independently.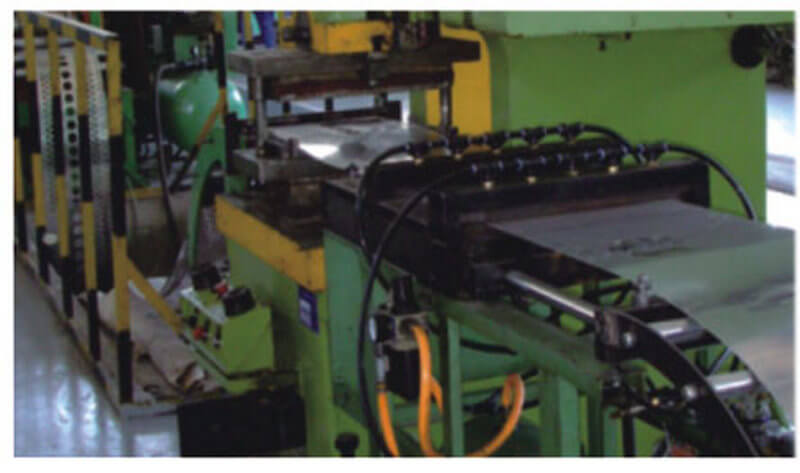 The roll forming machine is driven by a three-phase AC motor and installed in each pass of the molding machine. The power transmission is connected to the lower shaft of the forming unit through the coupling. The upper and lower synchronous gears are installed in necessary passes. The combination structure is adopted for the roll, so the speed difference and forming resistance are small, and the wear on the surface of the steel plate is small. Each spacer and roller is marked with a permanent mark for easy debugging. Using high-quality die steel, after quenching, precision CNC lathe finishing, surface polishing, high hardness, good wear resistance, long service life.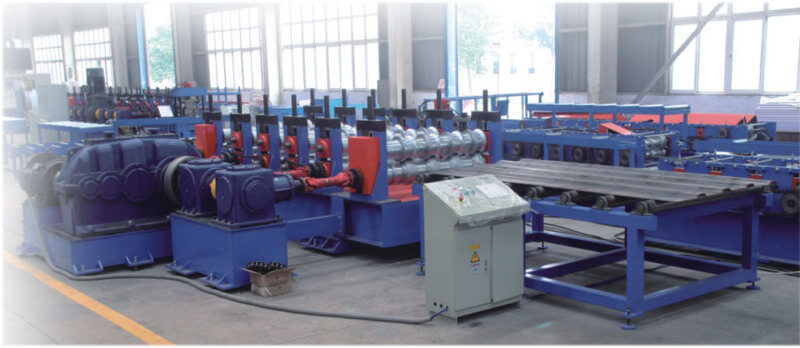 The forming process of roll mold is designed and checked by trained and experienced professionals with the internationally advanced German professional cold bending software Copra and analyzed and checked by FEA to ensure the accuracy of the parts.
The whole production line consists of feeding, uncoiling, feeding, leveling, shearing, conveying roller, forming, automatic punching, trimming, and supporting. The whole production line is controlled by PLC and the speed is controlled by the inverter. The unit has forward, reverse, and emergency stop functions. The product length is controlled by coding.
The driving motor of the molding machine adopts a frequency conversion motor, which is controlled by a frequency converter, with a speed setting and fault alarm. The fault alarm is displayed on the operation interface.
Technical parameters:
Num.
Item
Unit
Parameters
Remark
1
Suitable material
Type
Q235
strength
MPa
σs≤245MPa,σb≤450MPa
Thickness
mm
3-5.5MM
Coil internal diameter
mm
180
Coil weight
T
5
2
Specification
mm
1522–1540
3
Line speed
m/min
10
4
Roller material
D2 quenching treatment
5
Roller driven type
External chain transmission
6
Operating system
Windows2000
7
Total motor power
Kw
About 75
8
Electric control system
PLC automatic control system
9
Dimension(L*W*H)
m