Hydraulic decoiler is used to support the steel coil and unfold steel coil, The fuselage is welded by section steel and steel plate. The motor reducer drives uncoiling and the hydraulic pressure drives to tighten the inner wall of the coil. It has a reasonable structure, convenient operation, and can reduce labor intensity.

Servo leveling feeder is to level the sheet metal and guide the sheet metal to the shear butt welding device. It is composed of a feeding guide, leveling roll, guiding roll, power part, and frame. The leveling feeder is drove by a servo motor. The leveling roller adopts a worm gear and worm mechanism to adjust the lifting, which is convenient to adjust the leveling roller clearance.
The forming machine is composed of a base, transmission box, transmission system, and forming unit
The forming bed is welded by section steel and steel plate. After the stress is removed, the assembly table is assembled and milled by the machining center at one time to ensure long-term use and stable shape, position, and size without deformation. An adjusting bolt for adjusting the horizon is arranged under the fuselage.
The main reducer driven by a three-phase AC motor is installed in the middle of the molding machine. Drive the transmission box to drive in series, and connect the upper and lower shafts of the forming unit through the coupling. The upper and lower synchronous gears are installed in necessary passes.
Its transmission mode: main motor → gear reducer → transmission bevel gearbox → coupling → roller shaft under the archway.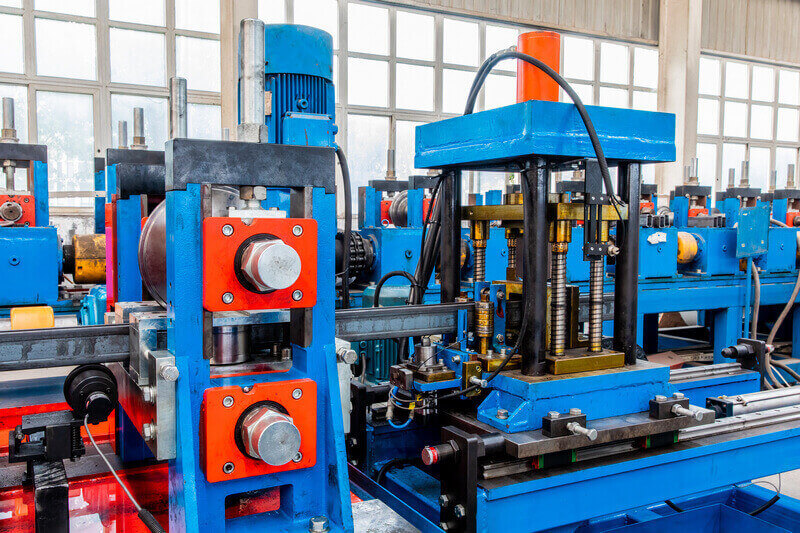 The roller frame adopts an arch structure with high rigidity; The positioning hole of the lower roll axis of the archway adopts fixed round hole positioning, and the positioning of the upper roll axis adopts chute positioning. The roller shaft is made of high-quality steel and finished to ensure assembly accuracy. The strength is enough.
The bearing is installed at the shaft end and placed in the bearing seat. It is fixed on the sliding way of the archway as a whole. The clearance between the upper and lower rollers is adjusted by a screw rod.
The combination structure is adopted for the roll, so the speed difference and forming resistance are small, and the wear on the surface of the steel plate is small. Each spacer and roller is marked with a permanent mark for easy debugging. Using high-quality die steel, after quenching, precision CNC lathe finishing, surface polishing, high hardness, good wear resistance, long service life.
The forming process of roll mold is designed and checked by trained and experienced professionals with the internationally advanced German professional cold bending software copra and analyzed and checked by FEA to ensure the accuracy of the parts.
Parameters
Num.
Item
Unit
Parameters
Remark
1
Suitable material
Type
CR,HR Sheet; Galvanized Sheet
strength
MPa
≤350
Thickness
mm
1.6-3.2
Coil internal diameter
mm
500,600
Coil weight
T
5
2
Specification
mm
100-320
3
Line speed
m/min
25
4
Roller material
D2 quenching treatment
5
Roller driven type
External chain transmission
6
Operating system
Windows2000
7
Total motor power
Kw
About 65
8
Electric control system
PLC automatic control system
9
Dimension(L*W*H)
m
30X2X1.7