It is used to support the expansion of steel coil and coil. It adopts the non-dynamic double support structure, and the connecting rod drives the connecting rod to tighten the inner wall of the material coil. The structure is simple and the operation is convenient.
The guiding device is mainly composed of a horizontal idler and a guiding vertical wheel. The guide wheel can be easily adjusted to adapt to the sheet width.


The lubricating oil in the oil storage tank is evenly coated on the plate by means of roller oiling, which plays the role of rust prevention and lubrication.
Two sets of C-shaped punching devices are used to punch out the notches on both sides, and the position of the notches is detected when cutting.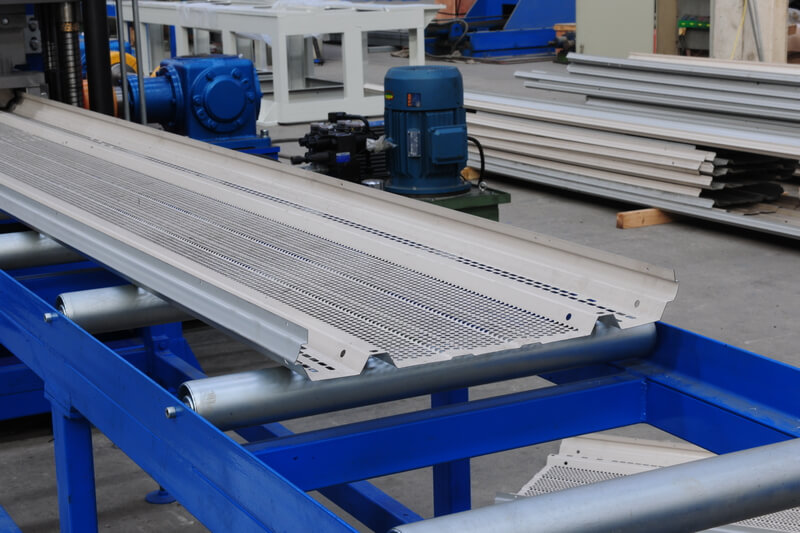 Function and structure:
Hydraulic drive, cutting length can be set, after reaching the length, the length measuring device sends a signal, and the hydraulic cylinder drives the punching die to cut the fixed-length profile and punch out the required hole.
PLC controls the operation of the whole line, automatic length measurement, fixed-length cutting, with automatic speed regulation function, man-machine interface, touch screen control, length can be set freely on the touch screen, the operation is simple and easy to understand. The peripheral connection of the control line adopts an aviation socket or quick plug, which is convenient for disassembly and high reliability.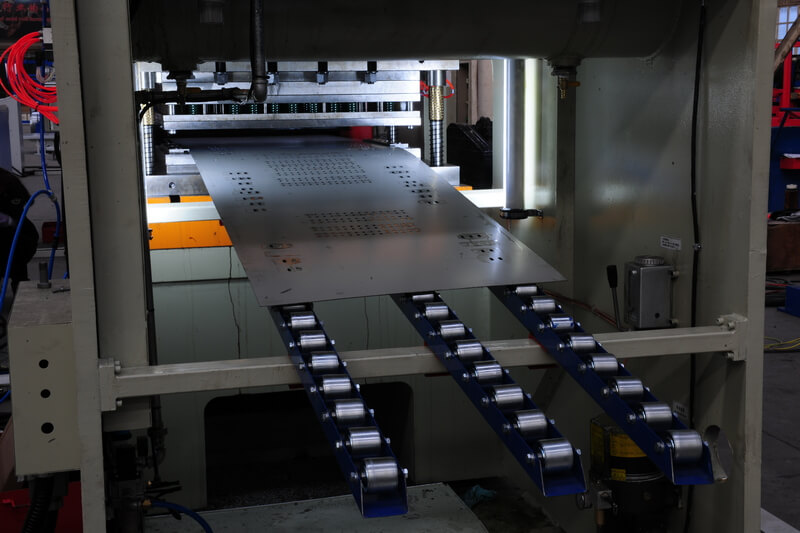 Technical parameters:
Num.
Item
Unit
Parameters
Remark
1
Suitable material
Type
SPCC
strength
MPa
≤350
Thickness
mm
1.2~1.5
Coil internal diameter
mm
500,600
Coil weight
T
5
2
Specification
mm
100-320
3
Line speed
m/min
10
4
Roller material
D2 quenching treatment
5
Roller driven type
External chain transmission
6
Operating system
Windows2000
7
Total motor power
Kw
About 15
8
Electric control system
PLC automatic control system
9
Dimension(L*W*H)
m